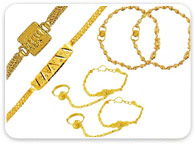 22Kt Gold Bracelets (for babies). Indian Traditional and Modern Designs, with filigree, 2 tone, 3 tones, meenakari, enamel work in beautiful Craftsmanship
Click for more..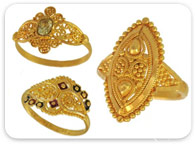 22kt gold rings for children. It includes Rings with Enamel Meenakari, Filigree Bands, Gold Bands in handmade designs in Indian styles with and without dangling balls and anklets.
Click for more..
Baby, Children Bangles, Fixed and adjustble in size. Fits newborns to 6 years based on wrist and fist size. Bangle with Ring
Click for more..